If you have any questions about placing order please call us,
we speak english
!

1pln ≅ 0.26$ ≅ 0.23€ ≅ 0.2£
We are direct florist from Bydgoszcz. Order flowers and we will deliver your bouquet to Bydgoszcz or in the neighbourhood. Guaranteed same day delivery!
FREE delivery to Bydgoszcz!
Always fresh flowers, secure order & payment. Direct florist, no middleman: no fees, no tricks.
Phone / Fax
:

(+48) 052 340 12 43

Phone
:

(+48)
509 27-66-57

@ Send us email »

Lightning fast and secure online payment methods »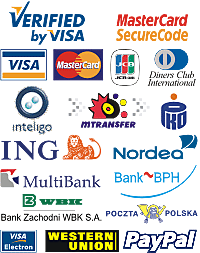 Zlecenia przyjmujemy 24h/dobę.
Działamy naprawdę on-line!
Nie widzisz nic ciekawego?
Napisz do nas o tym czego szukasz, zrealizujemy z miłą chęcią Twoje pomysły!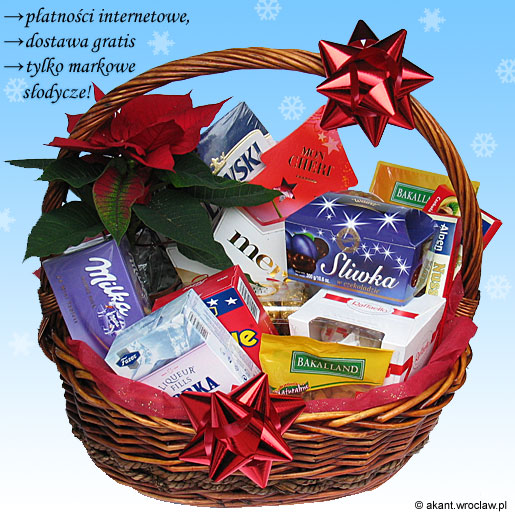 Description: Really big gift basket with many sweets and a house plant. Our wicker gift basket has ~2.5kg of well known sweets like:
1x Ferrero Rocher - 200g
1x Ferrero Raffaello - 150g
1x Ferrero Mon Cheri - pralinki z wiśnią w likierze - 178g
1x Strock Merci Petits, Chocolate Collection, cukierki - 200g
1x Wedel Chałwa lub Marcepan Królewski w czekoladzie deserowej - 250g
1x Wawel Śliwki kandyzowane w czekoladzie - 300g
2x Czekolada mleczna całymi orzechami Aplen Gold Nussbeisser - 100g
1x Fazer Liqueur Fills Vodka, czekoladki z wódką żurawinową - 150g
1x Fazer Dumle original - cukierki tofi w czekoladzie - 150g
1x Milka, opakowanie 24 sztuk czekoladek Milka Alpine Milk - 240g
1x Bakaland, figi suszone - 250g
1x Bakaland, Morele suszone - 250g
1x Bakaland, Migdały kalifornijskie - 100g.
You should order this basket 1 day before the delivery day!
Free delivery to Bydgoszcz, Poland.
Why order from us?
Bouquets really like on the picture, real photos, fresh flowers!
We promise that what you see & buy is what your addressee will really get.
Easy and fast ordering via internet, secure on-line payments, PayPal.
We are direct Bydgoszcz florist. No middleman fees » more flowers!
Free delivery to Bydgoszcz. We work whole week and deliver same day!
Fast and professional service guaranteed, receive delivery confirmation by email.