If you have any questions about placing order please call us,
we speak english
!

1pln ≅ 0.26$ ≅ 0.23€ ≅ 0.2£
We are direct florist from Bydgoszcz. Order flowers and we will deliver your bouquet to Bydgoszcz or in the neighbourhood. Guaranteed same day delivery!
FREE delivery to Bydgoszcz!
Always fresh flowers, secure order & payment. Direct florist, no middleman: no fees, no tricks.
Phone
:

(+48) 052 340 12 43

Phone
:

(+48)
509 27-66-57

@ Send us email »

Lightning fast and secure online payment methods »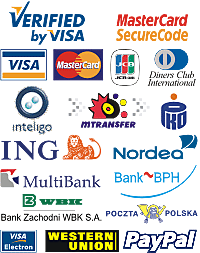 Bilecik do kwiatów dodasz gratis podczas składania zamówienia przez internet.

Zlecenia przyjmujemy online lub telefonicznie.
Od nas wyślesz kwiaty na cały świat - zapraszamy do siedziby firmy.
Kwiaciarnia Bouquet jest kwiaciarnią partnerską największej sieci kwiaciarń - Poczta Kwiatowa©. Kwiaciarnia Bouquet doręcza kwiaty: w Polsce najwcześniej w ciągu 4 godzin, a na świecie w ciągu 24 godzin. Poczta Kwiatowa© zrzesza ponad 1000 najlepszych kwiaciarń w kraju - to największa sieć w Polsce! Poczta Kwiatowa© współpracuje z największa międzynarodową organizacją Interflora doręczającą kwiaty na cały świat. Kwiaciarnie należące do sieci Poczta Kwiatowa? świadczą usługi na najwyższym poziomie, są gwarancją profesjonalizmu florystów oraz gwarancją najwyższej jakości świadczonych usług.
Nie widzisz nic ciekawego?
Napisz do nas o tym czego szukasz, zrealizujemy z miłą chęcią Twoje pomysły!

Why order from us?
Bouquets really like on the picture, real photos, fresh flowers!
We promise that what you see & buy is what your addressee will really get.
Easy and fast ordering via internet, secure on-line payments, PayPal.
We are direct Bydgoszcz florist. No middleman fees » more flowers!
Free delivery to Bydgoszcz. We work whole week and deliver same day!
Fast and professional service guaranteed, receive delivery confirmation by email.